Question
What types of embellishment do you offer?
Answer
We offer Screen Printing with a wide range of special inks and processes to elevate your designs to the next level. Our embroidery department does custom embroidery with specialty threads and precise detail. We also offer Heat Transfer for smaller orders or Vinyl numbers for the backs of sports jerseys. Now offering DTG Direct to Garment Printing for smaller orders with a high color count, as a new way to keep your costs down.
Question
Where are you located?
Answer
928 Josaine Court| Suite 1007| Altamonte Springs, FL 32701
Our shop is in the heart of Altamonte Springs, Florida about twenty-three minutes north of Orlando. You can schedule an appointment to stop in during business hours or if you're in the area stop by and say hi!
When you visit our location, you will enter into our ever-changing showroom with some of the latest styles in apparel. Inside you will meet with our sales team to help you determine the best apparel brands, custom art, and decoration methods that fit your budget. We have an in-house art team on location and production staff working around the clock to create all your apparel needs. We are a one-stop shop with over 30 years of experience in the screen print industry.
Question
How Do I Clean Leather Patch hats?
Answer
We advise against cleaning the printed color leather patch caps.
When the leather patch absorbs water and starts to dry, it will push the water to the surface making the print bubble ruining the color print ink.
Laser Engraved Leather Patch Cap – Cleaning Instructions For Entire Cap: Throw the caps in the bathtub with a cup of oxiclean and cold water. Let them soak for a while. Air dry, please do not apply heat it will ruin the leather.
No need to scrub the stains in the hat material, it will come out. Do not scrub or apply any pressure at all to the leather patch. It is burned leather any pressure applied to burned areas will take the ash off.
Laser Engraved Leather Patch Cap – Spot Cleaning Instructions: Wipe away sweat stains with a damp cloth with water and a little dish soap on cap only.
If the stain persists, use a soft-bristle brush with a mixture of ¼ cup hydrogen peroxide and ¼ cup lukewarm water. Dip your brush in the solution and scrub the stain only on the cap material. Use a clean towel moistened with water to wipe the area of the cap. Air dry, please do not apply heat it will ruin the leather. Leave the leather patch alone. It is burned leather, any pressure applied to the burned area will take it off.
Question
What Leather Colors Are Available?
Answer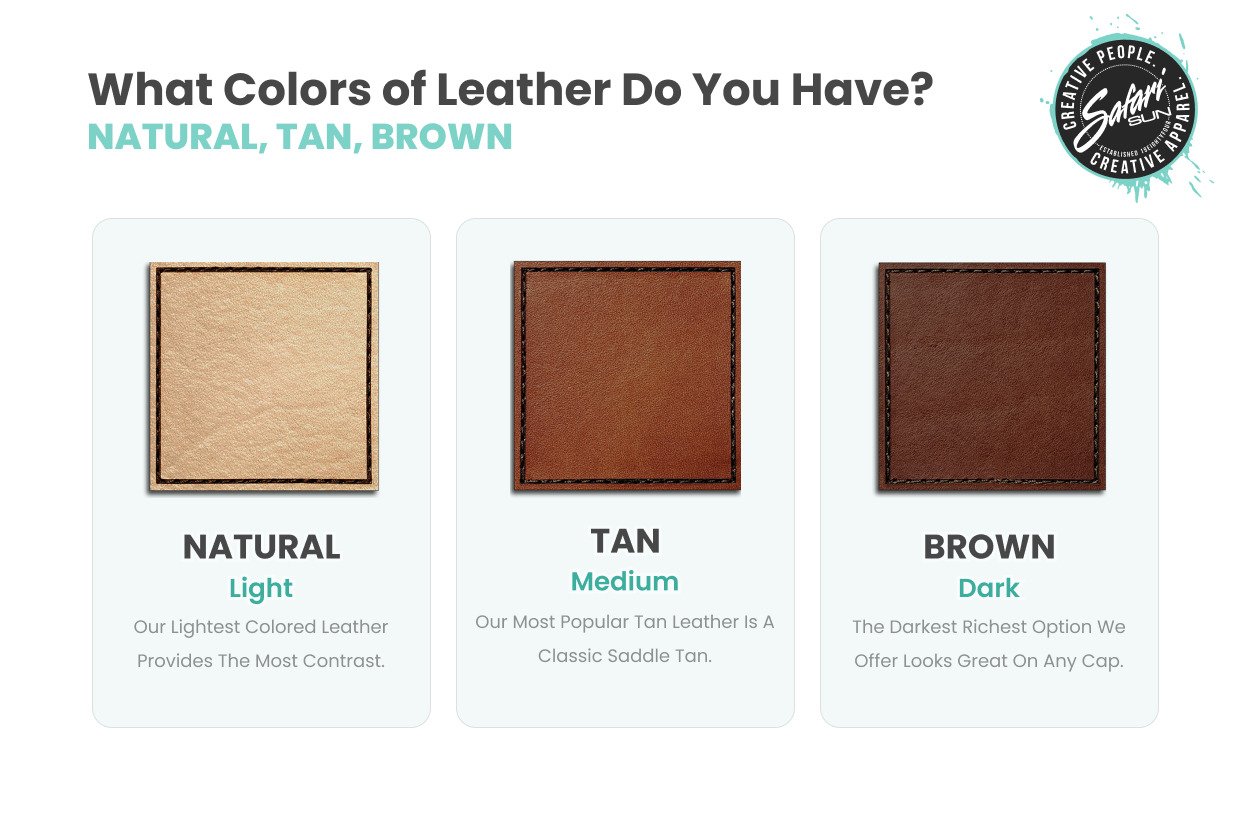 Question
What Are the Patch Dimensions?
Answer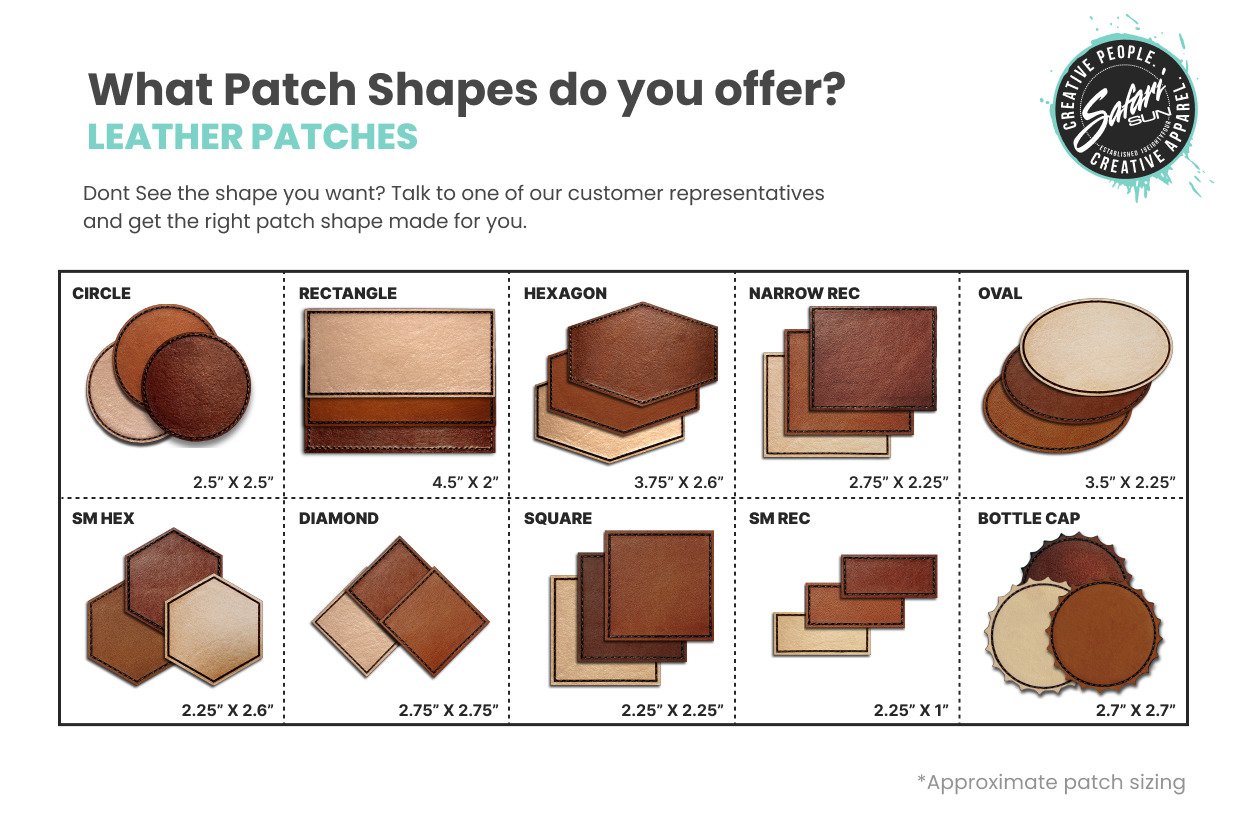 Question
What are the Beanie Patch Shape Sizes?
Answer
Question
How should I distribute shirt sizes?
Answer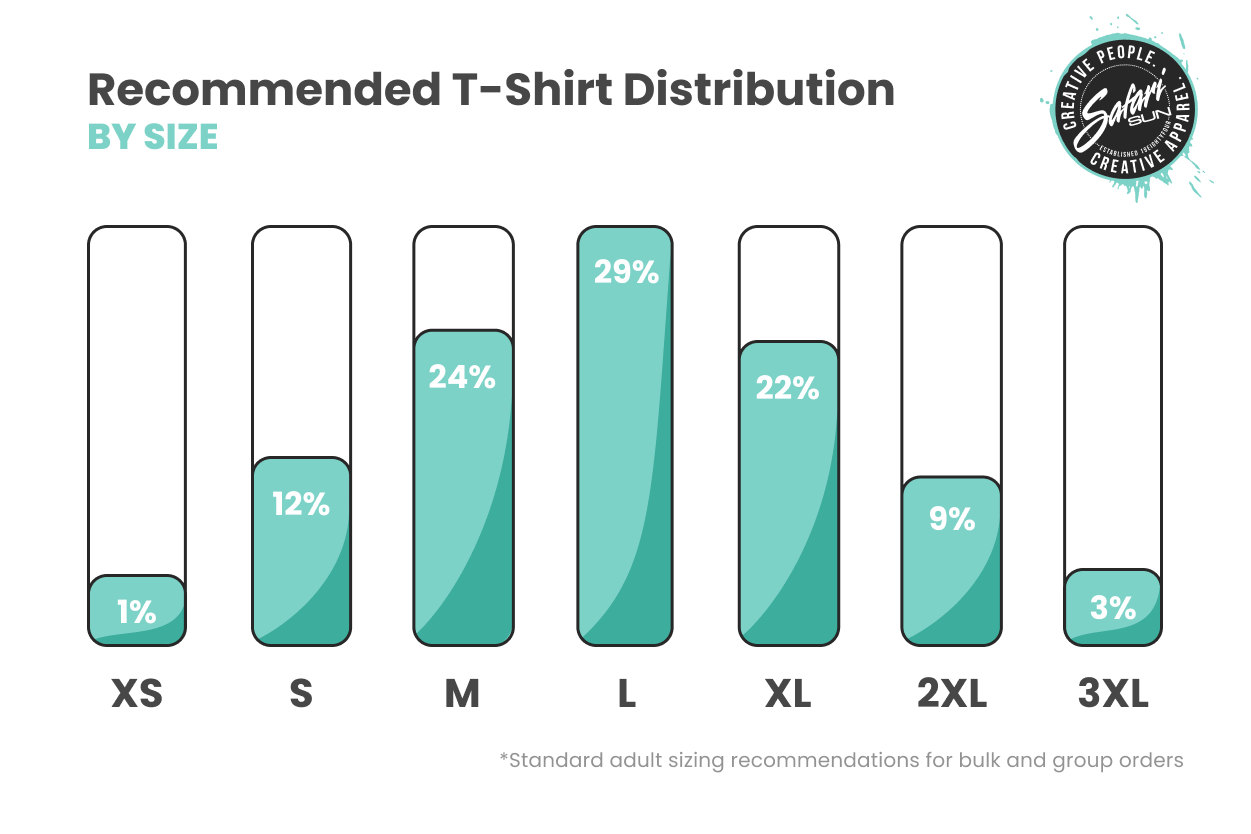 Question
Why do I need to resize My design?
Answer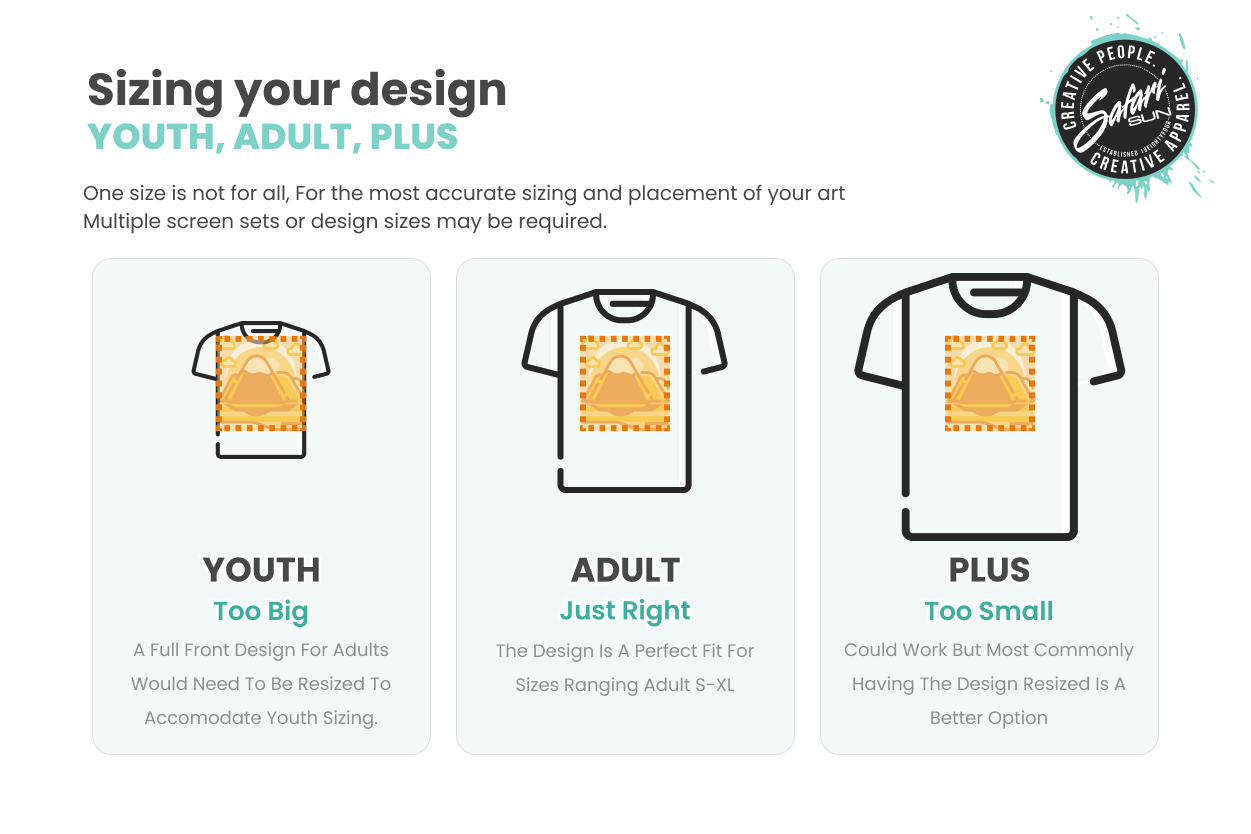 Question
Can you make some changes to my design?
Answer
We sure can. We have a very talented staff of T-shirt Designers. Save your design and contact us with what you would like to see changed. We'll make any changes you need and send you a proof. We can do everything from simple changes to fully detailed illustrations. Just let us know what you need. You're going to love it!
Question
Do you have a Money Back Guarantee?
Answer
We sure do have a money back guarantee. 
100%SATISFACTION GUARANTEED ON ALL ORDERS!
 If you are not happy for any reason at all, please return your order within 15 days. Please contact our customer service team to start the return process for a rush replacement or refund. We have over 30 years of experience to make the situation right.
Question
Can you make promotional items with our logo?
Answer
We offer a full line of promotional products. We can print just about anything with your logo on it. Contact one of our friendly customer service staff to find the items that will best promote your business or event. Did you know that 74% of people have at least one promotional product in their office? This can leave a daily impression on that customer.
Question
Do I see my design before production?
Answer
Yes, we always do a virtual art proof for new art orders. This way you will see exactly what will be printed on the shirt and the order isn't released for production until the art proof is approved. This way if you see the proof and want to make changes or your design just doesn't have that wow factor you were looking for, just let us know. We have a very talented team of artist and experienced customer service staff that can suggest some fresh approaches to bring your logo to life with the latest screen printing and fashion trends.
Question
How much are the setup fees?
Answer
There are NO setup fees for screen printing. We don't charge for screens, like some shops. We do have a set amount of art time allotted per job, art fees may apply if the art time does run over significantly. On embroidery orders digitizing fees may apply for new art.
Question
What is my turnaround time?
Answer
Typically, 7-14 days from art proof approval, plus shipping time. If you have a specific event or deadline let us know though. We will go above and beyond to try and meet all realistic deadlines.
Question
Do you have a minimum order?
Answer
We do find the most cost-effective ways to fulfill smaller orders.
Question
Can I bring in my own shirts?
Answer
At this time, we don't take customer supplied garments, but we do carry a wide range of popular brands to choose from that we stand behind for its quality of the fabric. We can determine which fabrics are best for your decoration method chosen.
Question
Do I need to pay for my shirts now?
Answer
We do require payment in full when the order is placed, unless credit terms are applied.
Question
How much does it cost?
Answer
There are many factors that go into the price. We would need a bit of information to be able to accurately email a price quote to you. Please send quote requests to
[email protected]
and please make sure your best contact method is provided in the email.
Please See Below: Typical questions we will ask to get the appropriate information needed to provide you with an accurate quote.
1.) What type decoration are you needing? (Screen Print, Embroidery, Etc.)
2.) What type of garments are you looking for?
Style (polo or t-shirt)
Fabric (cotton or polyester or blend)
Brand (Ogio, Nike, etc.)
3.) What color garments?
4.) How many pieces do you need?
5.) Where would you like the art placed and how many colors of ink are in each placement?
6.) If you have art we would like it sent to us along with the quote request, and please note any changes that may need to be adjusted on the art. If you don't have art but have an idea of what you'd like; please let us know any specifics and any colors, you'd like in the design.
Question
Do you do RUSH orders?
Answer
We always do our best to meet all our customers event dates, even if they are considered a rush but with no rush fees applied on production.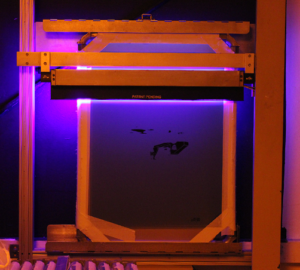 Screen Printing involves pushing ink through a silk screen and Creating multiple screens for each color used.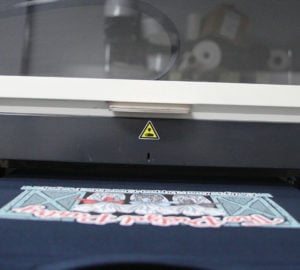 DTG method is directly printing a design on a shirt. lots of prep is required and its not ideal for larger orders.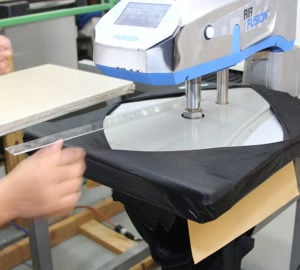 Heat Transferred Apparel is made by printing the design on a separate film and then heat pressing it onto the desired product.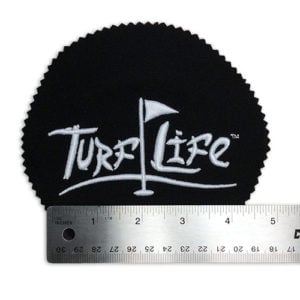 Embroidery is the process of decorating with thread. We provide this service by decorating apparel with your custom design or logo.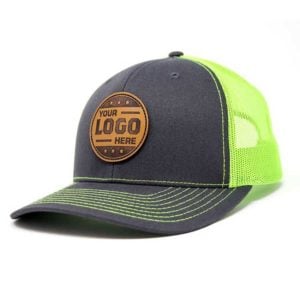 Our laser engraved leather patch hats are our best sellers. Each patch is laser engraved, cleaned and inspected for quality.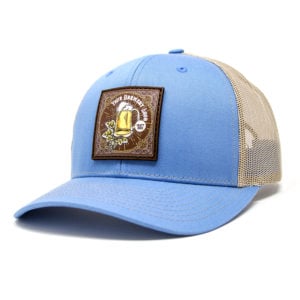 What is Color Printed Leather?
Our Color Printed hats offer endless design capabilities. Each design is super detail printed directly onto your leather patch.