WHAT IS DTG PRINTING?
DTG stands for direct to garment printing & is the process of using a large, specially designed printer to print directly onto the shirt's surface. It basically  works like the inkjet printer in your home or office. We feed the garment into the machine & the printer does the rest!
DTG is a great method for small orders & supports some of the most detailed designs with as many color options as you'd like.
Quick Quote
DIRECT TO GARMENT vs SCREENPRINTING
The biggest difference between DTG and screen printing comes down to their methods of applying ink to the fabric. Screen printing is the more traditional technique that involves pushing the ink onto a shirt through a stencil, while DTG utilizes a printer to apply ink directly onto garments. The DTG printing method is precise and produces high-quality results, but the ink is not as deeply soaked into the fabric as with screen printing.
Still not sure if DTG is right for you? Here's how these two stack up against one another!
Suitable for Small Orders
Direct to Garment printing is ideal for smaller orders, especially if your design is highly detailed, photo-realistic or involves many colors. It is a great cost effective option for those looking to get one-off shirts for gifts, birthday parties, dedications or a handful of friends or family.
Minimal Cost & Investment
Our DTG services are priced at a flat rate, so the absence of a setup and screens makes it far more cost effective for those who only want a handful of shirts. Pricing ranges from $12 – $22 per garment depending on style & print coverage.
Limited Apparel Selection
DTG printing is best suited for 100% cotton and blends with high cotton content. Because of this, specific blends and styles of garments may be incompatible with this printing method.
Prints Best on Lights & Heathers
Because this method uses water-based inks, printed graphics of any kind are going to look their cleanest & brightest on lighter colors. This printing style also works exceptionally well with 50/50 heather shirts for any design requiring a vintage feel. Some darker garments can be more of a challenge & aren't always receptive to maintaining the same quality brightness.
Limited Sizing & Placement Options
Because of the physical constraints of the equipment, DTG printing is limited to a max size of 12″w x 15″h. For prints requiring larger dimensions or special placement, screen printing is highly recommended.
High-Detail Prints & Elaborate Colors
Because it works like a printer, DTG can support the most detailed design, with as many colors as you want. This allows for easy printing of elaborate photo-realistic artwork or full color photographs without the loss of details.
However, because this method uses a single layer of ink, DTG produces a slightly more faded design. Additionally, there are some limitations that make certain color combinations difficult and, depending on the garment & artwork, the overall brightness of the print can sometimes be impacted.
Suitable for Large Orders
Screen printing is ideal for larger orders, especially if your design is relatively simple or has fewer colors.  It's durable & a great cost effective option for those looking to get custom shirts for a business, school, fundraiser or large scale event.
Cost Efficient Investment
Screen printing is most cost-effective for larger quantities of shirts. The screen process means that set-up is more labor intensive but the trade off is it makes printing far more efficient. Overall, the cost savings is built in as you print more t-shirts, making screen printing a smarter choice for designs requiring fewer colors & larger quantities.
Large Apparel Selection
Screen printing is extremely versatile & can be applied to a huge variety of different textiles and blends. Just about anything can be screen printed! 
Prints Well on All Colors
Screen printing produces beautiful, saturated colors and a distinctive, authentic appearance on any color garment. As a more labor-intensive process, this printing method is extremely versatile and lends itself smoothly to any color garment without the loss of brightness or print quality.
Flexible Sizing & Placement Options
Because screen printing relies on different equipment there is far more flexibility when it comes to print sizes & design placement. Screen printing's only real limit are it's screen sizes so this method is much more accommodating for anything requiring a larger print size or creative placements like side or shoulder prints.
High Quality Prints & Brighter Colors
Screen printing will produce a vibrant, durable design with more saturated colors than the DTG process. However, the labor-intensive process of turning your design into multiple screens limits the number of colors you can use & the amount of detail that can be translated.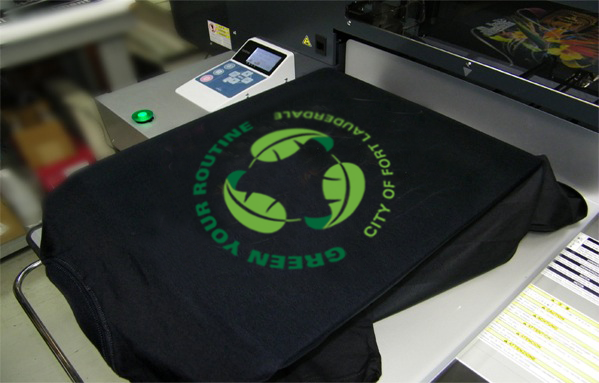 ECO-FRIENDLY
Because DTG utilizes water-based inks, this process eliminates all other chemicals, materials & waste utilized in traditional screen printing. It is a great eco-friendly printing alternative especially for those looking to substitute a more environmentally mindful solution in place of synthetic by-products.
THE DTG PROCESS
DTG printers are large and capable of handling all kinds of designs in many colors. Once a design is sent to the printer, water-based ink is applied in a single layer that quickly absorbs into the shirt's fibers. Want to see how the whole thing comes together? Check out our DTG process in action!
Quick Quote