Safari Sun is a small business, family owned, and established in 1984. It all started with one dollar and a dream!

Each team member is welcomed in with open arms and made part of the Safari Sun family. We are your neighbors and friends from the Central Florida community brought together to create a one of a kind screen print shop. Located in the heart of downtown Altamonte Springs, Florida we are just twenty-three minutes north of Orlando. Safari Sun is ranked among the top 50 high volume shops by Impressions Magazine. We take pride in serving our customers and always strive to keep a competitive edge in our industry with every order we produce.
Safari Sun is creative people who proudly create creative apparel. We specialize in screen print, embroidery, and promotional products. We work together with both small and large businesses alike to make sure their brand represents them. We give guidance on apparel, accessories, and promotional products. With our state of the art equipment, we will go above and beyond your expectations. Our friendly customer service reps and sales team have the experience to determine the best apparel brands, custom art, and decoration methods that will fit your budget.
Safari sun is not like all these online printing websites. All our screen printing is done right here on site with over 30 years of experience to give you the best quality prints possible. We offer more than just standard screen printing. Our wide range of specialty inks and processes give you the options needed to create a truly custom screen print order. This is another reason we stand above our competition in the industry. Our printing ability is 1,500+ shirts per hour and we have the resources to print up to 100,000 shirts in a single week. Rush is a word we understand, and time-sensitive order will be given undivided attention to meet your specific deadline.
Something unique about Safari Sun is that we have a whole art team on site. Our talented artist have the education and experience to help you create amazing designs that will help you stand out in a crowd. If you have an existing design and just need help adding a wow factor or just want a fresh new look, our staff is here to help. Sometimes by just adding a specialty ink to your design it could be just enough to give your brand a new energy it so deserves. If you need a design built from scratch or you have an idea but don't know how to bring the concept to life, our artists are here to make magic for you. They are full of creativity and would love the chance to work on your designs.
Together every staff member here at Safari Sun works very hard to create the best experience for every customer. From being welcomed into our showroom with a friendly smile and hello from our customer service reps; to sitting down with our experienced sales team and having them really listen to what our customers needs. Then our team of artists put their creative minds to work on your designs and the production team works diligently to create your amazing custom apparel. We strive to make every customer happy from our customer service to our quality products to gain your business as a repeat customer for years to come.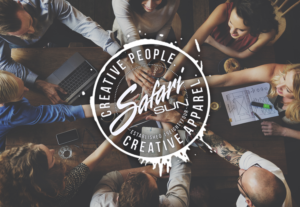 Mission Statement
• To have a company that employees and customers are proud to be associated with.
• We believe that our customers should have an easy and fun experience.
• To help our customers look good and feel great for their upcoming event, or to represent their school or business.
• To have a positive impact on our employees, their families, our customers and our community.
Vision Statement
• Our success will come by offering our customers the very best service, selection, quality, and value.
• To offer our customers the very best, we will stay knowledgeable and current in all the latest techniques of embellishment.
• To stay loyal to our core values now and forever.
• To connect with our customers and employees so that they will stay loyal for life.
Core Values
• Personally, Accountable: for delivering on our commitments.
• Commitment to our Customers: to developing relationships with our customers that make a positive difference for them.
• Quality: we provide outstanding products and unsurpassed service that together deliver premium value to our customers.
• Respect for People: we value our people, encourage their development and reward performance.
• A Will to Win: we exhibit a strong will to win in the marketplace and every aspect of our business.
If you are planning a promotional event as a means of advertising your company or product, our detailed professional screen printing services can come in handy for creating custom apparel which can be worn by promoters.
We are the premier Orlando experts in high quality, affordable, custom embroidery. Along with corporate embroidery, we also embroider Tackle Twill (applique) such as Sports Jerseys & specialize in the delicate embroidery of leather and vinyl.
Our special packaging services are designed to help you organize large orders for inventory purposes. We have the capabilities to polybag every garment by size/color and create custom stickers for each polybag.
The very talented artist in our staff have the education and experience to help you create amazing designs for your apparel and promotional product needs that will help you stand out in a crowd. Let us amaze you with our skills.
Based on 738 reviews
review us on
Shania Rales
19:48 04 Sep 22
I talked to Kate and she was awesome! I sent her my design and explained what I wanted. It literally took her 10

...

minutes tops to show me what I was looking for. I received all my merch in a timely manner when they said they would and was even a day early. These guys rock and I would recommend them any time!

read more
Michael Powell
22:55 14 Aug 22
Excellent customer service, great finished products. Also we're delivered in a timely manner. I will definitely order

...

again soon.

read more
Luis V
15:18 12 Aug 22
Excellent work & quality of products! Ordered a set of trucker hats for my brand Lion Sent and they came out amazing!

...

Customers are in love and we will definitely be doing business together again soon! Highly recommended!

read more
Chris Zumpano
11:19 05 Aug 22
Absolutely amazing customer service as well as top quality products. I have never received so many compliments on a hat

...

in my life. Thank you!

read more
Frank Lachat
13:05 02 Aug 22
My order was prompt and on point the hats turn out great.Will definately use them for other items in the future.Thank

...

you

read more
Carolyn Kinzie
20:08 30 Jun 22
I ordered 72 hats through Safari Sun for the general contracting company I work for, and we are very pleased with the

...

results! After the logo was printed onto the patches, Safari Sun reached out with a counter patch that enlarged the font on our logo. We really appreciated this check-in, as it gave us an opportunity to see the hats and see how their change made the product look way better.All in all, this shipment took about 1.5-2 months, but the customer service was almost immediate every time I reached out and they were very friendly!

read more
Kodiak Smith
22:23 19 Jun 22
Fantastic support and excellent results. They had the best selection and easiest website to design the hats. The came

...

looking exactly as they were designed and the attention to detail is amazing. Will definitely use them again.

read more
Emily M
23:32 05 Jun 22
They produce amazing work! We needed hats by a certain deadline and we received them just in the kick of time. They

...

needed to re-do art work but didn't charge anything extra for their work. We will definitely use them again!

read more
Lucas Solomon
02:44 08 May 22
They did an amazing job on the hats for my company. Love the look of the leather patch and they had all the hat styles

...

I was looking for in stock. They got our order out to Arizona quick! Thank you Safari Sun. - Lucas, owner at Hinged Overhead Door Company

read more
Dillon Brooks
23:09 04 May 22
Ordered a couple custom hats and received them very quickly. Great quality product and great service from Kate, who

...

made sure our logo would print correctly. Will be placing a second order soon!

read more
Matthew Peterson
19:44 01 May 22
Very nicely done. Very impressed. The engraving is nice and recessed. Very good detail on the small stuff. Awesome

...

selection for colors on Richardson hats. Best selection I saw from any other sites that do these patch hats. Highly recommend especially if you can get enough to get the free shipping.

read more
Michael Mattia
22:08 21 Apr 22
Great product, and even better customer service. Christian did an amazing job. We got 3 shirts that came in the wrong

...

size, no questions asked they replaced it immediately. They will be getting all of my companies business going forward. They were fast delivery, great communication, and the customer service was top notch.

read more
Sam Jordan
01:28 08 Apr 22
I have purchased several custom items from Safari Sun and everything is always A+++. Great service and the best quality

...

brands are used to make their hats and shirts! I love that they send a final mockup of the product as well! Love these people! Thanks!

read more
Peyton Ray
03:31 01 Apr 22
We highly recommend Safari Sun for all your hat needs. They have the best customer service & the quality of the hats

...

are top notch! We just received ours today & they are absolutely perfect & exactly what we was wanting! The turn around time is also very reasonable! We will definitely be ordering more soon!

read more
Jarrett Scott
18:44 25 Mar 22
great service. Super easy to create exactly what I needed for my landscaping company. I honestly couldn't be happier

...

with my hats !!

read more
Lori Spadavecchia
20:18 24 Mar 22
I have ordered several times and let me say it only takes 7 days from ordering to receiving. The turn around time is

...

awesome. The quality of the shirts are awesome. I love the 96% polyester 6% spandex it is the softest shirt ever. I just placed another order for 17 shirts.

read more
ryan bondi
21:04 20 Mar 22
User friendly design process, fast turnaround on the hat's I ordered!! Great quality work on leather patches, I will

...

use them for all my future hat orders!!Can't wait to design a shirt and try there other products out.

read more
Andrew Kalley
14:31 01 Mar 22
The end result was great. Really good quality and a comfortable fit. Everything arrived super fast. I ordered custom

...

hats but will definitely do other designs with Safari Sun.

read more
Talia Stewart
02:14 07 Feb 22
Robin is an absolute pleasure to work with! She communicates quickly and effectively. Our company has been working with

...

Safari Sun for some years now and they never disappoint. Great quality products that are affordable.

read more
Robb Lax
23:00 25 Jan 22
Great / Fast Service! Fast Turnaround on Order and AWESOME looking HATS! Highly recommend!
Bryan Bowman
21:38 21 Jan 22
I ordered some hats for my business through Safari Sun. They arrived earlier than estimated and the quality is great!

...

Pricing was awesome as well! When these hates are past their service life I will definitely be placing another order.

read more
Taylor Burns
21:16 14 Jan 22
First time using this company, and they beat my expectations! Blake was great to work with and answered all of my

...

questions.

read more
Daniel Wrye
00:25 10 Jan 22
Best place to get leather patch hats. Very good quality and always come perfect
Chris Adams
18:12 31 Dec 21
Purchased hats, Hoosier, and shirts. Customer service helped with organizing everything including art work suggestions.

...

Amazing company!

read more
Quinn Lyons
21:30 23 Dec 21
Ordered custom leather patch hats. Turned out great! Highly recommend!
Trey Nichols
16:09 26 Oct 21
I couldn't be happier with the service and the products that I have received from Safari Sun! Cara has been awesome to

...

work with! Thank you!

read more
John Gabriel (Johnny HammerSticks)
12:28 26 Oct 21
Safari Sun went above and beyond to ensure my request was handled not only expeditiously but with a high level of care.

...

I will use Safari Sun and recommend them as much as possible!

read more
logan gagne
23:36 21 Oct 21
Very good costumer service she is a sweetheart! great products would recommend to anyone and everyone! Fast shipping
Angelle Dixon
15:30 27 Sep 21
Safari Sun has an amazing support team. They're very helpful with assisting you in finding the right product. They

...

respond to emails in a timely manner and their design team did a wonderful job adding our logo. I highly recommend Safari Sun!

read more
Conor Bredder
19:47 12 Sep 21
Great company, personable, great quality and value. I won't go anywhere else for clothes or their custom leather hats

...

that are awesome.

read more
Alexandra Fenimore
14:00 30 Aug 21
I've been working with Safari Sun on custom gear for our business for over a year. I work with Cara Clifton, who is

...

always so helpful. She helps me find exactly what I'm looking for, makes sure I'm satisfied with the logo placement and size, and is patient and understanding when I need to make changes. I occasionally work with other companies for custom logo apparel, but Safari Sun is by far the best. They have the most flexibility for design at no or minimal added cost. Most companies charge extra for changes or multiple logo placements. I would highly recommend Safari Sun for anyone looking for great quality gear with awesome customer service.

read more
Canna Shine
20:53 01 Aug 21
Such Great Quality Hats! I plan to continue shopping here !🔥🔥🔥CEO of

...

CANNA-SHINE™️Ryan Egan

read more
Michael Sicuranza
22:25 26 Jul 21
I recently purchased a custom hat with my company logo and I was very impressed on how it came out. The quality of the

...

hat is very well made. I will definitely buy more hats from this company in the near future.

read more
David Cole
01:58 23 Jul 21
Our hats look amazing. They did an outstanding job contacting me about my purchase and making me aware of the timeframe.
Aaron Dylan
15:33 15 Jul 21
Amazing! No questions, I've ordered all groomsmen their hats for the bachelor party. Good investment worth Of money.

...

Thanks!

read more
Chase Yarbrough
00:25 18 Jun 21
The hats are phenomenal. Lacy did a fantastic job getting them to me when i needed them. I could not be happier.
Melissa Sipple
20:35 13 Jun 21
I used Safari Sun after they came with a recommendation from someone for my company T-shirts, which were

...

dri-fit/moisture wicking, an order of 100. The shirts came out nice. When I needed them ASAP, they were there that's for sure!!I gave the go ahead on the design and they had them back within a week. Now my tech's can quit pestering me for their shirts lol. Definitely can't forget about Cara in this review, she was amazing in her communication, responsiveness and always there to assist in all my requests and thoughts in such a timely manorTHANK YOU CARA & THE SAFARI SUN CREW

read more
Eric Fisher
19:50 04 May 21
Great company!… very easy to order and really fast delivery! Also great quality and great work with the leather

...

patch!... definitely recommend using these guys for all your custom needs!

read more
Ryan Stiles
15:27 26 Apr 21
Easy to use platform. Competitive price. Fast Response and lastly, fast production. We will be using Safari Sun again.
Stephanie Kersten
22:52 11 Apr 21
By far the best place to order anything you need for your team!! We made a mistake on our part and they helped us fix

...

it. They have an incredible turn around rate and are always there to help us out. Julie was amazing as always. She is truly professional and a loving person. Always goes out of her way to deliver to us or get someone to deliver the items to us. My favorite vendor to work with!!! Thank YOU

read more
shereen Loria
19:36 30 Mar 21
It was easy working with Robin. She was always quick to respond and the shirts look great! Would definitely go back to

...

her when I need more shirts made.

read more
Staci Douglas
19:44 14 Mar 21
Safari kept me updated on the processes. My order was produced and delivered within two weeks- and the hats are

...

beautiful. The custom logo patch adds such a custom and quality look to the hats. I'm very happy with our order. I'll be ordering again.

read more
Tricia Williams
10:35 13 Mar 21
Great customer service, outstanding pricing, and fast delivery. The quality of the products are right on, so please

...

pay attention to the sizes . The refund policy shouldn't be so strict, but they do let you know up front what to expect. I recommend if your company is sponsored with Safari Sun, go make your purchase. You won't be disappointed. 🥰😍😛

read more
Chris Haskell
19:47 24 Feb 21
Safari Sun has always gone above and beyond other companies I have used. They complete the project ahead of schedule

...

with a product that is next to none! I highly recommend Safari Sun!!!

read more
John Poon
01:53 09 Feb 21
Excellent service. Great quality. Everything came on time. Definitely will be ordering more
Tim Turner
22:18 05 Feb 21
Ordered a hat with a leather patch. Looks amazing, great quality, great comfort. I have several leather patch hats that

...

are Richardson hats but they are not as comfortable as this one. Would highly recommend and will definitely buy again from safari sun

read more
William Gregory
17:25 15 Jan 21
I accidentally ordered the wrong sizes for 5 t-shirts. As soon as I contacted them they put in a new order with the

...

correct sizes and shipped it to me at no extra cost to me.I wish the shirts were better quality but I believe the prices are fair for the quality especially for a custom t-shirt.Customer service is second to none. Fast reply and more than fair return/exchange policy.4.5 stars all the way (- 1/2 star due to quality).Cheers!

read more
Casey Curry
01:55 26 Dec 20
Their customer service is awesome! It was fast and wonderful quality. I got the dark leather patch Richardson hat and

...

absolutely love them! I will be ordering again soon!!

read more
Eric Rose
22:43 07 Dec 20
I have purchased hats from Safari Sun a few times. Everything has been great both times. Prices are fare. Customer

...

service is responsible and personable. And the quality has been top notch. I will definitely buy from them again in the future. If I have one piece of criticism, it's the inability to design my own products on the website. It doesn't mean it's difficult work through a design proof, just that it would take less time for the customer and the designer if this was available in some way.

read more
Grant Joneckis
15:10 30 Nov 20
Quick turn around time, great product, looks exactly as described. Also a great company that doesnt have a bunch of

...

add on charges after you pick the product you want for customization. Cant wait to buy more!

read more
DILLS ACE Hardware Matthew Young
13:10 09 Nov 20
We ordered personalized hats for our hometown Ace Hardware and we were very pleased upon receiving the product. The

...

hats are great quality and they did an excellent job with our logo. Through the ordering process safari sun contacted us and let us know that one of the colors would not be in and they offered a solution. Thank you safari sun for your business and your great product. We look forward to doing more business with you in the future.Thank you,Marcus PaulkDills Ace Hardware

read more
Billy Benton
20:44 08 Nov 20
Very great company to work with. Ordered some hats for my dads business and they turned out great! Very fast turn

...

around as well! We will definitely be back for more!

read more
Shivani Ramrattan
18:03 20 Oct 20
Service was fast and the quality was beyond what I expected. The best part is being able to chat with a representative

...

who guided me to what I was looking for. Great service.

read more
Faginal Wilkerson
14:09 05 Oct 20
I requested a quote for some items our agency previously purchase through Safari. I was given an email by one of the

...

customer service agents to email and request a quote. The emails was sent Thursday afternoon to Melissa in Sales. I contacted her on Friday and she indicated that some of the information was left off the quote. I quickly sent her the info that was inadvertently left off. I tried contacting her to follow-up and she kept sending me to her voicemail. I left a message on her voicemail and sent her an email as well. Today is Monday, and I still haven't received any response from her. Very unprofessional. Obviously they didn't want our business so we decided to go with another vendor.

read more
paul censo
18:55 02 Oct 20
We had some hats done for my company. They responded quickly and were very helpful in getting everything done. The

...

quality is amazing. Would recommend

read more
Jaime Horta
22:53 01 Oct 20
I love my T-shirts. I have purchase before from other sites and they always take 4 to 6 weeks to get my product back,

...

Here they send my Shirts in less than two weeks. Also the quality of materials and printing is amazing. Prices are fair enough. Definitely recommend them.

read more
Jacob Heflin
16:45 23 Sep 20
5 stars across the board. hat came in ahead of expected time and turned out amazing smooth experience definitely

...

recommend to any business that apparel made.

read more
Richmond OMFS
23:29 17 Sep 20
I have always had a positive experience and in fact have ordered multiple times bc of the experience and quality- all

...

my staff love the shirts and jackets and they are super nice! From a personal standpoint Ms Cara has been so responsive and easy to work with on my orders for my Practice! Thank you!

read more
Terry Swaim
12:49 14 Sep 20
Great service speed and products. Well done.
Brianna Hamilton
19:36 10 Sep 20
So so happy with how our family farm hats turned out. We had an order of 25 that they fit our logo, made and shipped

...

within 2 weeks. Such good quality. And EXCELLENT customer service.

read more
Travis Hogue
20:52 03 Sep 20
Extremely fast and professional service. Will be using again for our next uniform order!
J&S Hotshots
19:39 27 Aug 20
There was a slight hiccup on my original order (whether it was lost in transit or stolen)I contacted them and

...

they immediately started making it all right. Talking with their sales rep lacy was easy and professional. I will continue to use safari sun for all my business needs!

read more
Ryan Haller
22:59 25 Aug 20
Incredible product and customer service. Cara was so quick to respond. Needed turnaround within two weeks for a

...

special group outing. Delivered with two days to spare. Hats turned out great!! Thank you! Incredible product. Incredible value. Incredible customer service. Thanks!! #stronglikebull

read more
Debbie Garrett
12:09 12 Aug 20
We ordered 450 t-shirts from Safari Sun for a corporate event with a design on the front and back and needed them in a

...

week. They not only delivered on time, but the shirts looked amazing and the design surpassed our expectations. The staff was friendly and very responsive to our needs and communicated with us every step of the way. I highly recommend Safari Sun!

read more
Rob S
00:15 11 Aug 20
Great experience working with this company. Great help through my order. My hats arrived in a timely manner and they

...

look great too!

read more
Chip Winchell
13:54 10 Aug 20
Safari Sun always comes through with great quality products in a very timely way. Our latest order was produced,

...

shipped and received within a week. I highly recommend them. Chip W. CEO, CableServ

read more
Jennifer martuscello
01:25 07 Aug 20
Out of all the T-shirt companies that I have been with Debbie had by far the best customer service skills. She has gone

...

above and beyond to help me, and I appreciate that.

read more
Raymond Zimmerman
20:21 21 Jul 20
Just got my Hats in and Safari Sun did a Awesome Job, I will be getting more from them.
Matthew Pearson
19:50 16 Jul 20
Great job on a custom hat order for my gym! We had 2 different patches and 7 different colors and the order was

...

perfect. WE will order more in the future.

read more
Tyler Small
02:52 13 Jul 20
We ordered the trucker style hats with the custom logo for a golf tournament we were doing. High quality product and

...

high quality logo prints. We were able to work with customer service team to make sure our order wouldBe delivered by our golf tournament date despite the back orders due to Covid. Everyone was crazy about the hats! Love them and the different color options available. Also thought the ordering process was easy to be able to see the look of the hats with the custom logo upload feature . Very happy with my order and may even need to order another batch of the hats!

read more
CK Knife and Tool
20:51 10 Jun 20
I've found shopping for hats has been quite challenging but when I ran across Safari Sun and went through their

...

website, I couldn't have been more pleased. Then when I received my hats I was more than pleased with how they turned out. Safari Sun took what I found to be an arduous process and made it streamlined and simple to use.

read more
Danielle Battiato
19:36 07 Jun 20
I ordered 6 hats and they exceeded all expectations. They are very nice and high quality. I'm definitely going to be a

...

repeat customer.

read more
Olga Wood
01:23 01 Jun 20
I have been using Safari Sun and Debbie for our t-shirts for years, I have never been disappointed! I highly recommend

...

them to everyone who asks.

read more
Fred Ferrara
19:59 07 May 20
Couldn't be happier with my hats I ordered! The quality of the leather is excellent and the fit of the hat is perfect.

...

The logo came out great as well. 100% recommend!

read more
Leonard Niedosik
19:38 30 Apr 20
Safari Sun did a remarkable job with my hats. Easy upload, looks just like I expected, reasonable price, and shipped

...

quickly. Could not ask for much else! Thank you!

read more
Mario
21:39 21 Apr 20
10/10 would recommend. The hats I ordered are way better than any hat I have worn. My head is #blessed to be touched by

...

these hats. I'll give anyone my first born child if they find a company that does a better a job. P.S I was not paid by Safari Sun to say this, but could you guys sponsor me??

read more
Capt Cas Suwannee River Rest
21:50 12 Apr 20
I Love This Local Company, but even if they were in Alaska, I'd Still Love & Order These Caps for The Suwannee River

...

Rest & Adventures!Thank Ya'll For Helping With Our First Line of Defenders!Blessings,CC

read more
Matt Slayton
12:22 01 Apr 20
Blown Away! Great product at an amazing price! Customer Service and design team are good at what they do! Thank You

...

for being awesome!

read more
barbara dobson
19:37 19 Mar 20
Amazing products and prices. Julie is always patient, informative, and helpful. She is AWESOME!!! Thanks so much 🙂
Tim E Burns
14:58 16 Mar 20
Excellent customer experience from beginning to delivery of my hats!! I would recommend Safari Sun to everyone
rick luther
20:04 12 Mar 20
Have had bad experiences with other companies. Took a chance on Safari sun and they exceeded my expectation! Will be

...

doing business with them in the future!

read more
Josh Craig
14:08 28 Feb 20
High quality product! very impressed by how easy it was to upload images and designs to get on a good hat.
Angela McCurdy
19:19 27 Feb 20
Amazing print company helped our girls Lyman Beach Volleyball team with their 2020 jerseys- Marlene provided friendly,

...

quick, quality service and I highly recommend!!!

read more
Game Getter Outdoors
21:05 20 Feb 20
Awesome product couldn't have been happier. Highly recommend the leather patch hats.
Roberto Mercado
00:54 14 Feb 20
Best company for promotional items. Loved my baseball cap and will call again! Highly recommended!
Andrew Bond
22:19 26 Jan 20
Great quality shirts. And shipping was fast.
Jan Whitehouse
19:14 04 Dec 19
Safari Sun packs value, care and attention to detail. Never a flaw and everything they've created has lasted

...

beautifully, even after many washings. You're silly for thinking anyone else will serve you and your company/organization as well!!

read more
Karen Dewitt
20:34 20 Oct 19
Our order was a bit of a challenge, but Safari Sun was responsive to questions and made sure our order was ready for an

...

upcoming event. Every person I dealt with was very friendly and helpful! Quality job Safari Sun - Thank you!!

read more
Ryan Gay
18:54 25 Sep 19
Great Company to get a variety of good quality clothing for your business. We just ordered polo shirts for all of our

...

employees and they are very responsive and a pleasure to work with. Our company's rep is Robin and she is terrific at meeting our needs. Thank you Safari Sun!

read more
Hannah Rosenberg
19:37 05 Sep 19
Safari Sun has been so wonderful to work with! They are willing to assist every step of the way, and are always willing

...

to make changes. I appreciate their amazing customer service. I have specifically been working with Tara and she has been incredible.

read more
Next Reviews